Product Description
++++
The Multilingualizer is the easiest to use multi-language addition to your website. It works perfectly on Squarespace, Shopify, Magento, Drupal, WebFlow, WordPress and other sites (they just need to let you upload JavaScript).
You add all your translations into your website and the Multilingualizer hides what your users don't need to see.
..
Le Multilingualizer est l'addition multilingue la plus facile à ajouter à votre site. Elle fonctionne parfaitement sur Squarespace, Shopify, Magento, Drupal, Flow, WordPress et autres (en autant que vous puissiez télécharger JavaScript)
Vous n'avez qu'à ajouter vos traductions à votre site et le Multilingualizer cache ce que vos utilisateurs n'ont pas besoin de voir.
++++
Easy to Use..Facile à utiliser
++++
You use your current website editor to enter the language variations – that means you don't have to learn a new interface. Installation is a guided copy and paste job which takes only a minute.
..
Utilisez votre éditeur de site actuel pour entrer les variations de langues – ce qui veut dire que vous n'avez pas besoin d'apprendre une nouvelle interface. L'installation consiste à un travail de copiez-collez qui ne prend qu'une minute.
++++
Great for SEO..Parfait pour le SEO
++++
Because all versions of text are on your own website pages, Google sees all versions of your text making your content able to be found. Other systems that insert translations from their own servers (and charge more for the privilege!) make it impossible for Google to see your translations.
..
Puisque chaque version de vos textes est sur les pages de votre propre site, Google voit chacune d'entre elles, permettant ainsi la découverte de votre contenu. Les autres systèmes qui insèrent les traductions à partir de leurs propres serveurs (et qui vous charge plus pour ce privilège !) empêchent Google de voir vos traductions.
++++
Learn why the Multilingualizer wins vs Bablic and Localizejs

Multilingualizer on Squarespace..Multilingualizer sur Squarespace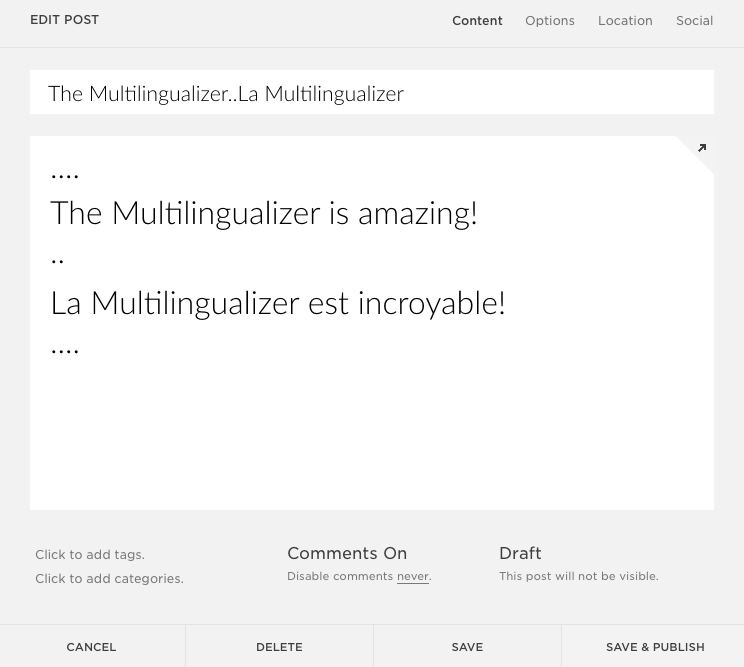 Multilingualizer on Shopify..Multilingualizer sur Shopify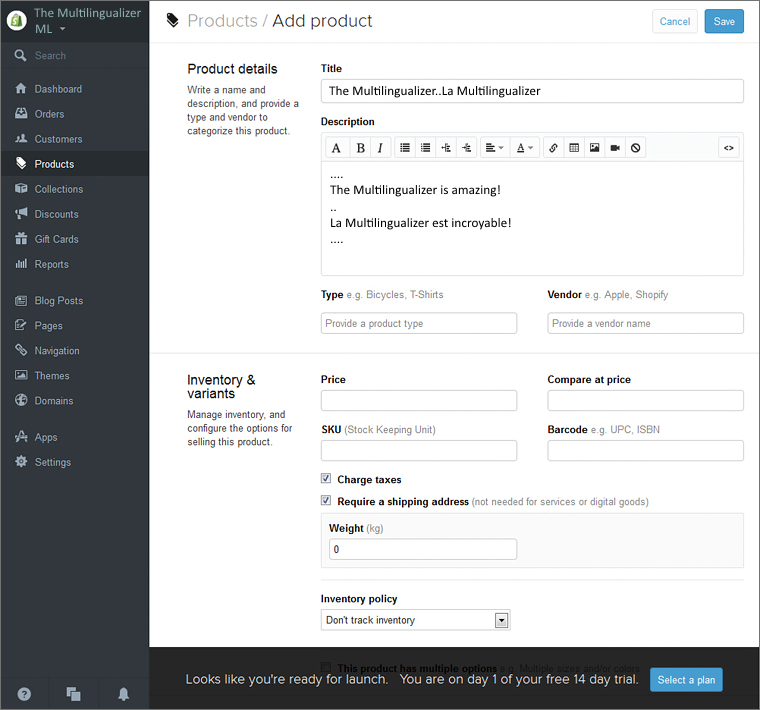 ++++
Regardless of which platform you use, simply surround your large text blocks with 4 full stops and separate the text with two full stops and the Multilingualizer will hide the text the user doesn't need to see.
In the examples above, the languages are English and French – so the Multilingualizer will hide the English text for French users and hide the French text for English users.
Your users can also change languages by clicking a button you add to your menu. You are fully guided in how to do this.
..
Peu importe la plateforme que vous utilisez, il suffit d'entourer chaque gros bloc de texte avec 4 points et de séparer le texte avec 2 points. Le Multilingualizer cachera le texte que l'utilisateur n'a pas besoin de voir.
Dans les exemples présentés ci-dessus, les langues sont l'anglais et le français – le Multilingualizer cachera donc le texte en anglais pour les usagers francophones et le texte en français pour les usagers anglophones.
Vos utilisateurs peuvent également changer la langue en cliquant sur un bouton ajouté à votre menu. Vous êtes entièrement guidé sur la manière de procéder.
++++
Unlimited Languages..Langues illimitées
++++
You can have as many languages as you wish.
The Multilingualizer chooses the language from the users default language set in their browser, but also presents the user with a 'language selector' so they can change language if they wish. You can disable auto-language selection, so you can choose which language you wish to enable  by default.
..
Vous pouvez avoir autant de langues que vous le désirez.
Le Multilingualizer choisit la langue selon celle sélectionnée par défaut dans le navigateur de l'utilisateur mais présente également un sélectionneur de langues qui vous permet de changer à votre guise. Vous pouvez désactiver la sélection automatique et choisir la langue de votre choix.
++++
It works with all languages..Fonctionne avec toutes les langues
++++
The Multilingualizer works with all left-to-right and right-to-left languages such as Hebrew etc. It automatically adds the correct HTML tags to display the text in right to left fashion as well as a CSS class to let you style the text differently per-language if you wish.
..
Le Multilingualizer fonctionne avec toutes les langues, qu'elles soient écrites de gauche à a droite ou de droite à gauche, comme l'hébreu, etc. Il ajoute automatiquement les balises HTML afin d'afficher le texte de la bonne manière ainsi qu'une classe CSS permettant de styliser le texte différemment selon la langue choisie.
++++
What happens if you don't have translations yet?..Que se passe-t-il si vous n'avez pas encore de traductions?
++++
The Multilingualizer gives you the capability to have multilingual content. If pages on your site do not have the text-pattern that the Multilingualizer looks for, your pages will be left entirely as they are. If you add a 3rd or 4th language, and your users choose the 3rd or 4th languages, the Multilingualizer will revert to the default (the first language) on your page if no translation exists for the users chosen language yet.
It makes it super easy to add extra translations as and when you get them without having to translate your entire site in one go – you can add translations page by page and the Multilingualizer will pull translations for the user when they're available or revert to the original/default language of the website when they're not.
We provide links to affordable human translators and machine translators if you want to get off to a head start.
..
Le Multilingualizer vous donne la capacité d'avoir un contenu multilingue. Si certaines pages de votre site n'ont pas de modèles de texte reconnus par le Multilingualizer, elles seront tout simplement laissées telles quelles. Si vous ajoutez une troisième ou quatrième langue, le Multilingualizer reviendra à la langue originale de la page si aucune traduction n'existe dans la langue sélectionnée par l'utilisateur.
Il est donc très facile d'ajouter des traductions supplémentaires au fur et à mesure sans avoir à traduire votre site d'un seul coup – vous pouvez y aller page par page et le Multilingualizer se chargera de fournir les traductions disponibles ou de retourner à la langue originale.
Nous fournissons également des liens afin de trouver des traducteurs abordables vous permettant ainsi d'obtenir un avantage dès le début.
++++
Great for social media..Excellent pour les médias sociaux
++++
If you use a more complicated multilanguage system that involves creating additional pages – none of those new pages will have any Facebook likes or Tweets for your social media counters. With the multilingualizer, all languages share the same page on social media so social sharing is amplified, and with Google now taking social shares into account, this boosts your SERPS too!
..
Si vous utilisez un système multilingue plus compliqué et impliquant la création de nouvelles pages, aucune de ces nouvelles pages n'aura les mentions j'aime de Facebook ou les tweets de Twitter. Avec le Multilingualizer, toutes les langues partagent la même page sur les réseaux sociaux et le partage en est donc amplifié. De plus, avec Google comptabilisant désormais les partages sociaux, vos SERPS en sont bonifiés.
++++
You don't need to change your theme, template or platform..Vous n'avez pas à changer votre thème, modèle ou plateforme
++++
It works with all Squarespace templates, all Shopify themes, all WordPress themes and all sites that allow you to upload Javascript/HTML.
..
Le logiciel fonctionne avec tous les modèles Squarespace, Shopify, WordPress ainsi que tous les sites permettant de télécharger JavaScript/HTML.
++++
No need to create extra pages or change navigation..Pas besoin de créer de pages supplémentaires ou de changer de navigation
++++
You just add all translations to your existing page and the Multilingualizer removes the ones it doesn't need when the user views the page. So you don't need to create extra pages or change navigation.
..
Simplement ajouter les traductions à votre page existante et le Multilingualizer retire celles qui ne sont pas nécessaires pour l'utilisateur. Vous n'avez donc pas besoin de créer de nouvelles pages ou de changer la navigation.
++++
No License Fee..Sans frais de licence
++++
Unlike our competition, we don't charge an ongoing monthly fee – you own your translations. We charge according to how many sites you wish to use – no extra charge for extra traffic or languages.
..
Contrairement à notre compétition, nous ne chargeons pas de frais mensuels continus. Vous possédez vos traductions. Nous chargeons selon le nombre de sites que vous souhaitez utiliser – pas de frais supplémentaires selon l'achalandage ou le nombre de pages.
++++
Better pricing than our competition too!..Meilleure tarification que la compétition!
++++
There is an alternative system to the Multilingualizer called Localize.js. With Localize js, they charge you monthly and based on traffic volume. To hit level 2 of their traffic pricing, you only need to get about 670 page views to your site per day which is about 200 unique visitors per day. Then – with Localizejs.com you're paying $588 per year for your multilingual ability, whereas with the Multilingualizer you pay way less than that for a one-off payment. If you're on the lowest plan with Localizejs, you still have to pay $240 every single year.
With us, your translations sit directly on your page so YOU get all the SEO benefit.
..
Il existe un système alternatif à Multilingualizer appelé Localize.js. Avec Localize.js, vous êtes non seulement facturé mensuellement mais également selon l'achalandage du site. Pour atteindre la tarification de niveau 2, il ne suffit que d'avoir 670 pages visionnées par jour ce qui représentent à peine 200 visiteurs uniques. De plus, avec Localize.js, vous payez 588$ par année pour vos services alors qu'avec Multilingualizer, vous payez moins avec un paiement unique. Même avec le plan le moins dispendieux de Localize.js, vous devez tout de même payer 240$ par année.
Avec nous, vos traductions restent sur votre page et VOUS recevez les avantages SEO.
++++
But will it definitely work with your theme, template or website?..Cela fonctionnera-t-il assurément avec votre thème, modèle ou site?
++++
The Multilingualizer is dealing with text, not layout or styling – so it works with every theme, every template and every website so long as you can upload Javascript. That includes WordPress, Shopify, Squarespace, Magento, Drupal, all custom-websites and every single platform where it's possible to upload Javascript files or copy and paste Javascript to your site.
If you have any more questions, check out the video and reviews below and the Q & A menu option above to see comments from other users successfully adding multilingual capabilities to their website really easily with the Multilingualizer.
..
Le Multilingualizer traite le texte et non la disposition ou le style – cela fonctionne donc avec tous les thèmes, modèles et sites en autant que vous puissiez y télécharger JavaScript. Ceci incluse WordPress, Shopify, Squarespace, Magento, Drupal, tous les sites personnalisés et chacune des plateformes permettant le téléchargement de JavaScript ou de copier-coller JavaScript à votre site.
Si vous avez des questions, je vous invite à visionner la vidéo et les commentaires ci-dessous ainsi qu'à consulter l'option Q&A afin de voir les commentaires laissés par nos utilisateurs qui ont facilement intégré le Multilingualizer à leur site internet.
++++
Future developments..Développements futurs
++++
As it stands, the Multilingualizer code is complete – it works with every language, every template, every theme, it's fast and it's great for SEO. But there is still room for improvement. In the near future I am adding a 'website scanner' which will scan your website and extract the text for you and let you download the text for translation send this text off to automatic human-translation third-party translation services. This will be completed by November 2016, so if you buy now this will be included in your 12-months support & upgrades.
..
Tel que présenté, la codification du Multilingualizer est complète – il fonctionne avec toutes les langues, modèles et plateformes et il est rapide et excellent pour le SEO. Mais il y a toujours place à l'amélioration. Dans un futur proche, je souhaite ajouter un « numériseur de sites internet » qui numérisera votre site et extraira le texte pour vous, rendant la traduction beaucoup plus facile. Ce service sera complété d'ici l'été 2016, donc si vous acheter maintenant, tout sera inclus dans votre plan de 12 mois.
Nous voulons également vous donner la possibilité de choisir vous-même le séparateur de texte si celui à 2 points ne convient pas.
++++
Leave a review..Laissez un commentaire
++++
If you've already bought the Multilingualizer, please leave a review below – I really appreciate them!
..
Si vous avez déjà acheté le Multilingualizer, laissez-nous un commentaire ci-dessous – nous les apprécions vraiment !
++++