Description
The Multilingualizer is the easiest to use multi-language addition to your website. It works on Squarespace, Wix, Weebly, Zoho Sites, Magento, Drupal, WebFlow, WordPress and other sites (they just need to let you upload JavaScript).
You add all your translations into your website and the Multilingualizer hides what your users don't need to see.
Translations can be entered ANYWHERE that you normally add text. Included is a technique to allow you to add translations for hard-coded Squarespace text too.
Choosing between the Multilingualizer and other multilingual systems
We have written a guide to help you understand the differences between the Multilingualizer and Weglot. Weglot are our best competitors by far with a free trial and fantastic pricing. They support every website that we support (see above), they can translate your checkout pages and they have integrated machine and human translation. We don't recommend Bablic or LocalizeJS because they are far too pricey in our opinion for what they offer.
If you have or plan to have eCommerce on your site, or if you need access to machine or human translation then we recommend you try the Weglot solution for free.
How the Multilingualizer works
You use your current website editor to enter the language variations – that means you don't have to learn a new interface. Installation is a guided copy and paste job which takes only a minute.
Great for SEO
Because all versions of text are on your own website pages, Google sees all versions of your text making your content able to be found. Other systems that insert translations from their own servers (and charge more for the privilege!) make it impossible for Google to see your translations.
Learn why the Multilingualizer wins vs Bablic and Localizejs

Multilingualizer on Squarespace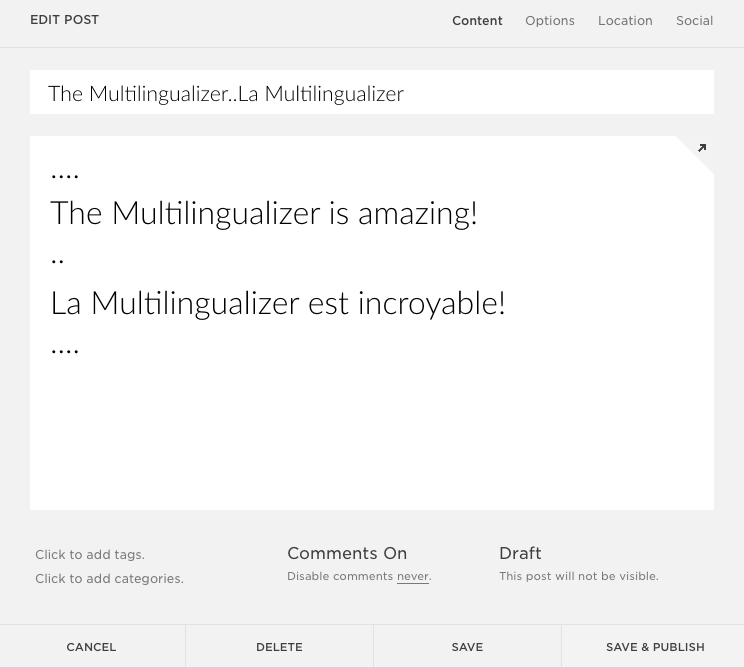 Multilingualizer on Shopify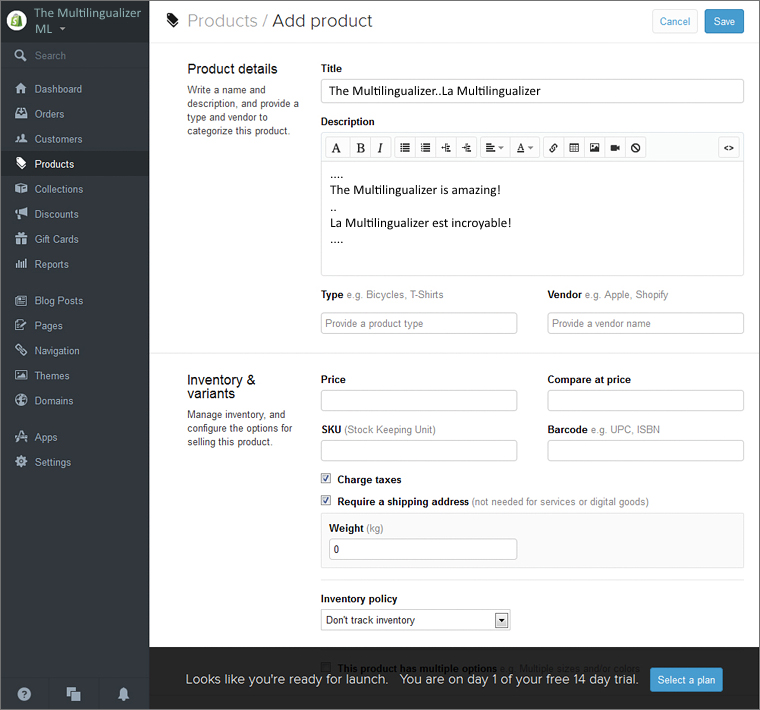 Regardless of which platform you use, simply surround your large text blocks with 4 full stops and separate the text with two full stops and the Multilingualizer will hide the text the user doesn't need to see.
In the examples above, the languages are English and French – so the Multilingualizer will hide the English text for French users and hide the French text for English users.
Your users can also change languages by clicking a button you add to your menu. You are fully guided in how to do this.
Unlimited Languages
You can have as many languages as you wish.
The Multilingualizer chooses the language from the users default language set in their browser, but also presents the user with a 'language selector' so they can change language if they wish. You can disable auto-language selection, so you can choose which language you wish to enable  by default.
It works with all languages
The Multilingualizer works with all left-to-right and right-to-left languages such as Hebrew etc. It automatically adds the correct HTML tags to display the text in right to left fashion as well as a CSS class to let you style the text differently per-language if you wish.
What happens if you don't have translations yet?
The Multilingualizer gives you the capability to have multilingual content. If pages on your site do not have the text-pattern that the Multilingualizer looks for, your pages will be left entirely as they are. If you add a 3rd or 4th language, and your users choose the 3rd or 4th languages, the Multilingualizer will revert to the default (the first language) on your page if no translation exists for the users chosen language yet.
It makes it super easy to add extra translations as and when you get them without having to translate your entire site in one go – you can add translations page by page and the Multilingualizer will pull translations for the user when they're available or revert to the original/default language of the website when they're not.
We provide links to affordable human translators and machine translators if you want to get off to a head start.
Great for social media
If you use a more complicated multilanguage system that involves creating additional pages – none of those new pages will have any Facebook likes or Tweets for your social media counters. With the multilingualizer, all languages share the same page on social media so social sharing is amplified, and with Google now taking social shares into account, this boosts your SERPS too!
You don't need to change your theme, template or platform
It works with all Squarespace templates, all Shopify themes, all WordPress themes and all sites that allow you to upload Javascript/HTML.
No need to create extra pages or change navigation
You just add all translations to your existing page and the Multilingualizer removes the ones it doesn't need when the user views the page. So you don't need to create extra pages or change navigation.
No License Fee
Unlike our competition, we don't charge an ongoing monthly fee – you own your translations. We charge according to how many sites you wish to use – no extra charge for extra traffic or languages.
Better pricing than our competition too!
There is an alternative system to the Multilingualizer called Localize.js. With Localize js, they charge you monthly and based on traffic volume. To hit level 2 of their traffic pricing, you only need to get about 670 page views to your site per day which is about 200 unique visitors per day. Then – with Localizejs.com you're paying $588 per year for your multilingual ability, whereas with the Multilingualizer you pay way less than that for a one-off payment. If you're on the lowest plan with Localizejs, you still have to pay $240 every single year.
With us, your translations sit directly on your page so YOU get all the SEO benefit.
But will it definitely work with your theme, template or website?
The Multilingualizer is dealing with text, not layout or styling – so it works with every theme, every template and every website so long as you can upload Javascript. That includes WordPress, Shopify, Squarespace, Magento, Drupal, all custom-websites and every single platform where it's possible to upload Javascript files or copy and paste Javascript to your site.
If you have any more questions, check out the video and reviews below and the Q & A menu option above to see comments from other users successfully adding multilingual capabilities to their website really easily with the Multilingualizer.
What restrictions does the Multilingualizer have?
Firstly, it's an on-page translation tool – it doesn't do automated machine-translation, so if you're looking for machine translation you'd be better off choosing Google Translate or something like that.
Secondly – it cannot translate checkout pages – the Multilingualizer uses JavaScript to hide text users don't need to see (you enter multiple translations on your page, it hides irrelevant ones for your user). On checkout pages, there is something called PCI compliance – Payment Card Industry – and their rules sensibly state no third-party JavaScript allowed on payment pages. Allowing JavaScript to run on payment pages would mean it would be theoretically possible to steal credit card info – this is why they don't allow it.
That means, if you have checkout pages, the Multilingualizer will not run on those checkout pages (it will run everywhere else including your basket). That means users will see BOTH versions of text – e.g. if you have English and French on your site, they will see the product names in both English and French. There is no way around this until/unless SquareSpace and/or Shopify introduce their own back-end multilingual system some time in 2020 maybe. If you MUST have your checkout pages translated, your best option is to migrate to a full CMS like WordPress and use the Q-translate plugin. If you'd like advice about this, we have a migration service to migrate from SquareSpace or Shopify to WordPress.
There's theoretically a limit on the size of your pages too – because the Multilingualizer is hiding content using JavaScript, if the page is really long – say 20 pages long – then your users will start seeing both translations on the page for a brief moment until the Multilingualizer has had a chance to complete. If your pages are less than 10 pages of text long then you will be fine.
We don't provide a translation service either – most people using the Multilingualizer are multilingual themselves.
If there is anything else we've missed, please let me know.
Leave a review
If you've already bought the Multilingualizer, please leave a review below – we really appreciate them!
To leave a review, please scroll up and click the Reviews tab. The review form will then be visible at the bottom of the page.